Falling Leaf Outfitters - Testimonials
Here's what a few of our customers have had to say about us.
Have a testimonial of your own to share?
Send a Testimonial
Joelle and her daughter Doninique
16 Year Old Girl Comes with Mom
November, 2014-


Hi Frank,

I just wanted to let you know that Dominique had a GREAT time on her hunts. Although she did not see any deer, she had a great time!! Both Gary and Stan did EVERYTHING they possibly could to make her experience wonderful and to shoot a deer. They could not have done more for her, and they are such great guys! All of the members of your club that I met were so nice to us.
Thanks again! Joelle


This testimony was about a 16 year old that came with her mother. On the first day she sat with her mom. We convinced her to let her go alone on the second day to put her in a better spot. Unfortunately they spooked, what we think was a buck, when they got to the stand while getting her situated. That was the only action she had all day. We REALLY tried to get her a shot on something. The day before we had a "six" walk right under the stand with another member who let it go, and then recommended that we put the girl there.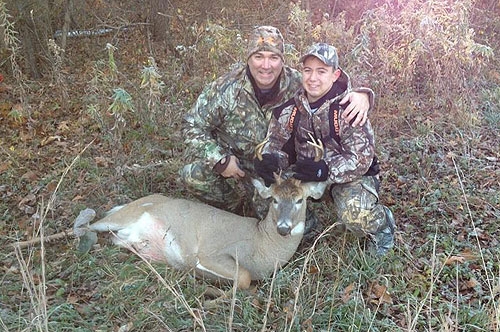 Doug and Anthony
Fall Bow Hunt
November, 2014-


Dear Frank,
Anthony and I had a great day at FLO yesterday. While the deer didn't cooperate, we still had a blast. Thanks to you and Dan for providing us with another terrific memory. While it's always nice to harvest a deer, the real fun is just spending a great day hunting with my son. Thank you for your flexibility in accommodating our changing schedule and for the opportunity to hunt again with FLO! We'll be back again for sure!
Regards,
Doug