New Jersey Wild Turkey Hunts
There is now an abundance of wild turkeys throughout the state of New Jersey with turkeys found wherever there is suitable habitat. Even in South Jersey, where wild turkeys had been struggling just a few years ago, intensive restoration efforts have improved population numbers significantly. The population is estimated at 20,000 - 23,000 with an annual harvest of more than 3,000. Our properties are within ZONE 14 for wild turkey hunting.
Falling Leaf Outfitters is now taking deposits for guided and non-guided hunts on our Pemberton properties. Being that NJ wild turkey hunting is based upon a lottery system, we will schedule hunt dates on a first come--first served basis, those with deposits getting first pick of days to hunt based upon their lottery results.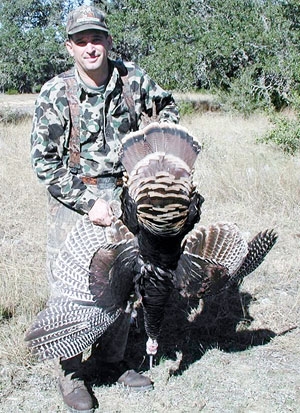 1-Day Guided Turkey Hunt
$375 Per Hunter
Let our experienced guide take you out in the pre-dawn hours and get set up to call in wild turkeys. We will teach you the basics of turkey hunting tactics and calling as well as proper camouflage and set you up in a pre-scouted area perfect for calling in the gobblers. Our guide will take care of all the calling or do it with you, if you prefer, in addition to gutting of your bird and giving you advice on cleaning and preparing your wild turkey feast.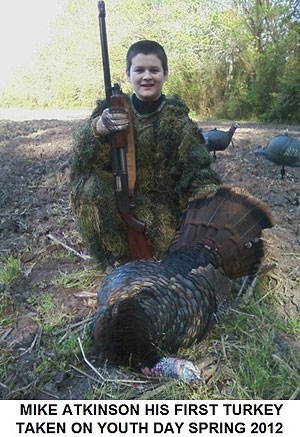 Young Gobbler Hunters Welcome
Youth turkey hunters aged 10 to 16 with a permit can hunt in any hunting period in the zone that they draw a permit for during the spring season. Youth hunters aged 10 to less than 14 must be under the supervision of a licensed adult who is at least 21 years of age. The adult does not have to have a turkey permit, but they do have to have a regular license. This regulation applies until the youth takes a turkey. After taking a turkey, the youth is subject to the same hunting period and zone restrictions as an adult.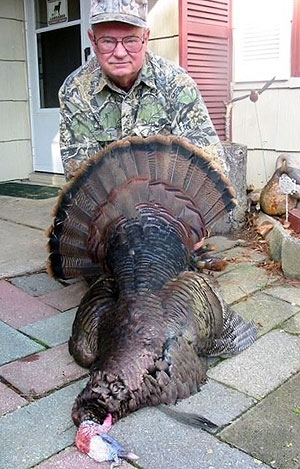 Turkey Hunting Details
New Jersey Hunting Seasons
The hunting seasons are: Turkey (bow or shotgun), Fall Bow (deer), Winter Bow (deer), Shotgun and Muzzleloader (deer). The seasons range from September thru late January. More specific information on the exact season dates and regulations can be found at the link below
Hunters With Disabilities
We do our very best to accommodate hunters with disabilities to give you the best hunting experience possible. Please try to inform us of any handicapped requirements at the time of your booking so that we can make the necessary arrangements for your particular needs.